Top Concealed Carry Fanny Packs
Shopping for concealed carry fanny packs may seem like an easy task, but it is not. You need to know the intricate features to review to ensure that you get the best for your firearm.
Ambidexterity is an essential aspect to consider when buying a conceal carry fanny pack. This element makes the product an ideal option if you are looking to gift someone a conceal fanny pack.
Size is the next aspect that you have to bear in mind. A sizable concealed fanny pack should ensure you carry your gun with ease. When reviewing this feature, consider getting a product that can conceal different kinds of firearms.
Space, durability, and versatility are the other top factors that you have to pay attention to guarantee that you are getting a suitable product that will fit your needs.
Other additional features such as adjustable and removable straps will also come in handy as you use the concealed carry fanny pack you select.
Here are some of the top choices in the market that you recommend for anyone looking for a conceal fanny pack.
The dimensions for this fanny pack holster fits an array of guns, including but not limited to subcompact, compact, revolvers, and full-size pistols. It measures 10″L X 6.5″H X 2.5″ D for the main compartment allowing it to carry the range of guns we list above. The main compartment allows it to carry the range of guns we list above.
This versatility makes this unit the perfect choice for you if you have various guns in your possession that you want to conceal. Additionally, the manufacturer uses premium quality nylon, thick foam, and reinforced stitches to make the product durable and suitable for the task at hand.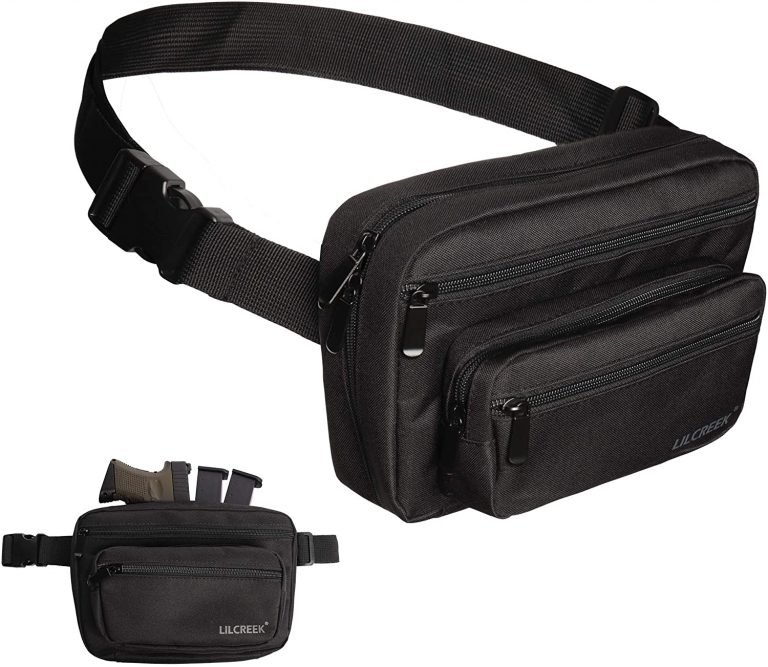 This product from Lilcreek is among those with numerous secure pockets that you can utilize for various needs. It is a versatile option that takes into consideration your lifestyle needs in the design. You can conceal your weapon to protect yourself and your family when biking, hiking, hunting, and any other outdoor activities you are undertaking.
This functional unit measures 10″×7.5″×3.2″ and fits various handguns such as the Glock, subcompact, and compact pistols. It works with both right and left-hand draws and incorporates extra pockets in the design to hold other items that you need to carry along with you.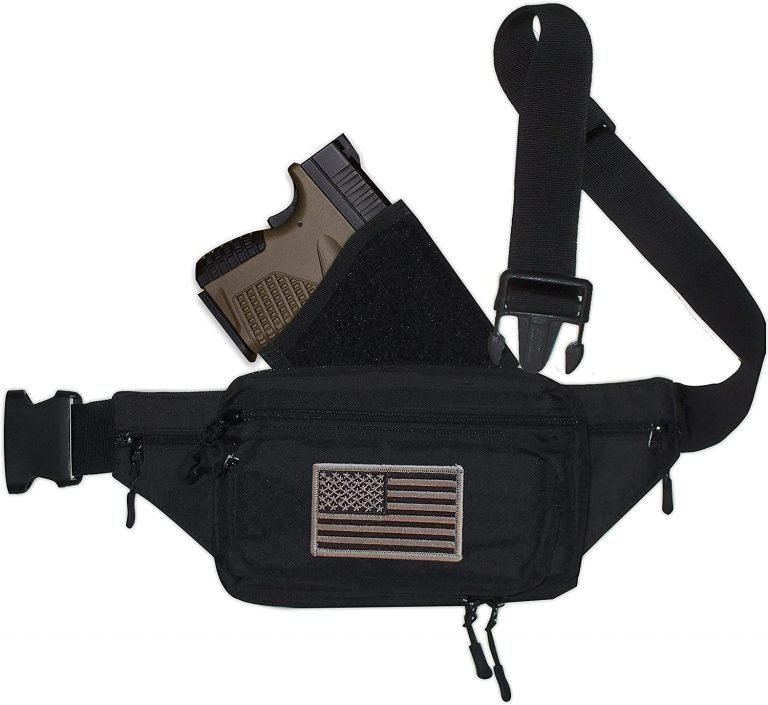 Simply Things is one of the renowned manufacturers in the market. This conceal fanny pack from them is one of the top-rated options in the market. It's a small size pack measuring 8"x 5" for the main pocket and the diagonal side compartments. It is a US army ranger tested product that fits anyone from waist size 34 to 42 inches.
This is one of the units in the market that comes with a 5-year warranty. Which guarantees durability and top-tier construction from the manufacturer. The design of this product feature is best for subcompact and compact pistols. If your firearm does not fit in these categories, you may have to find another alternative.
Concealed Carry Fanny Packs – Bottom line
Numerous other products are available in the market. Pay attention to the features we review herein to ensure that you get the best option that caters to your needs wholly.
Source
Top Concealed Carry Fanny Packs is written by Alex Joseph for gunnewsdaily.com