Concealed Carry Purse Made in the USA
One of the challenges to finding a concealed carry purse made in the USA is getting the one that's right for you. In this post, we will talk about some things to consider and make it easier. Then, we selected our top 10 best concealed carry purses on Amazon. Carrying your handgun needs to be safe, secure, and easy to access. Now, don't forget fashionable.
Let's dive into some of the higher-level items you should be considering before purchasing your concealed carry purse made in the USA.
Concealed Carry Purse: Style
Before shopping or even opening up your Amazon, you need to think about your preferred style. Here are a few questions that should help you get started:
Do you like or need pockets?
Do you want one large purse with no pockets?
What is your ideal style: hobo, structured, crossbody?
What type of material do you prefer?
Does your activity level require you to get a more durable material?
Thinking about your style and needs before shopping allows you to ensure that you get the best purse for you that will be comfortable and fit your fashion.
Concealed Carry Purse: Safety
Safety is always the chief concern when carrying your weapon. Therefore, it is essential to understand how your purse zips and locks.
Does the purse have two zippers on either side?
Does it have one zipper that goes over the entire central compartment?
Is the bag designed with a zipper for left-handed, right-handed, or both?
Also, pay attention to the draw angle adjustment options. You will want to make sure that you can adjust the angle to what is comfortable for you once you get your purse. Below, some of the bags we highlight; use Velcro to allow for draw angle adjustments.
Concealed Carry Purse: Accessibility
One of the most important considerations is how to access the firearm. It should feel comfortable and be accessible. The key is to look for a purse that offers flexible options so that you can purchase, try it out, and adjust. It isn't necessarily trying to find the perfect fit.
The key, like most things in life, is practice makes perfect. So bring your purse to the range, train in your home, and create a situational exercise. Learn how to create a smooth draw if you ever need to for real.
Top 10 Concealed Carry Purses Made in the USA for 2021
Here is a brief list and some highlights of our favorite concealed carry purses made in the USA for 2021:
Price: $79.99
Rating: 4.7 out of 5
Description: Since 1878, Browning has been a trusted brand for firearms and outdoor gear/products. This purse is made with premium materials, a lockable zipper with a hidden key ring, and quick access to the pocket with a holster. Also, it comes with an adjustable holster and two keys.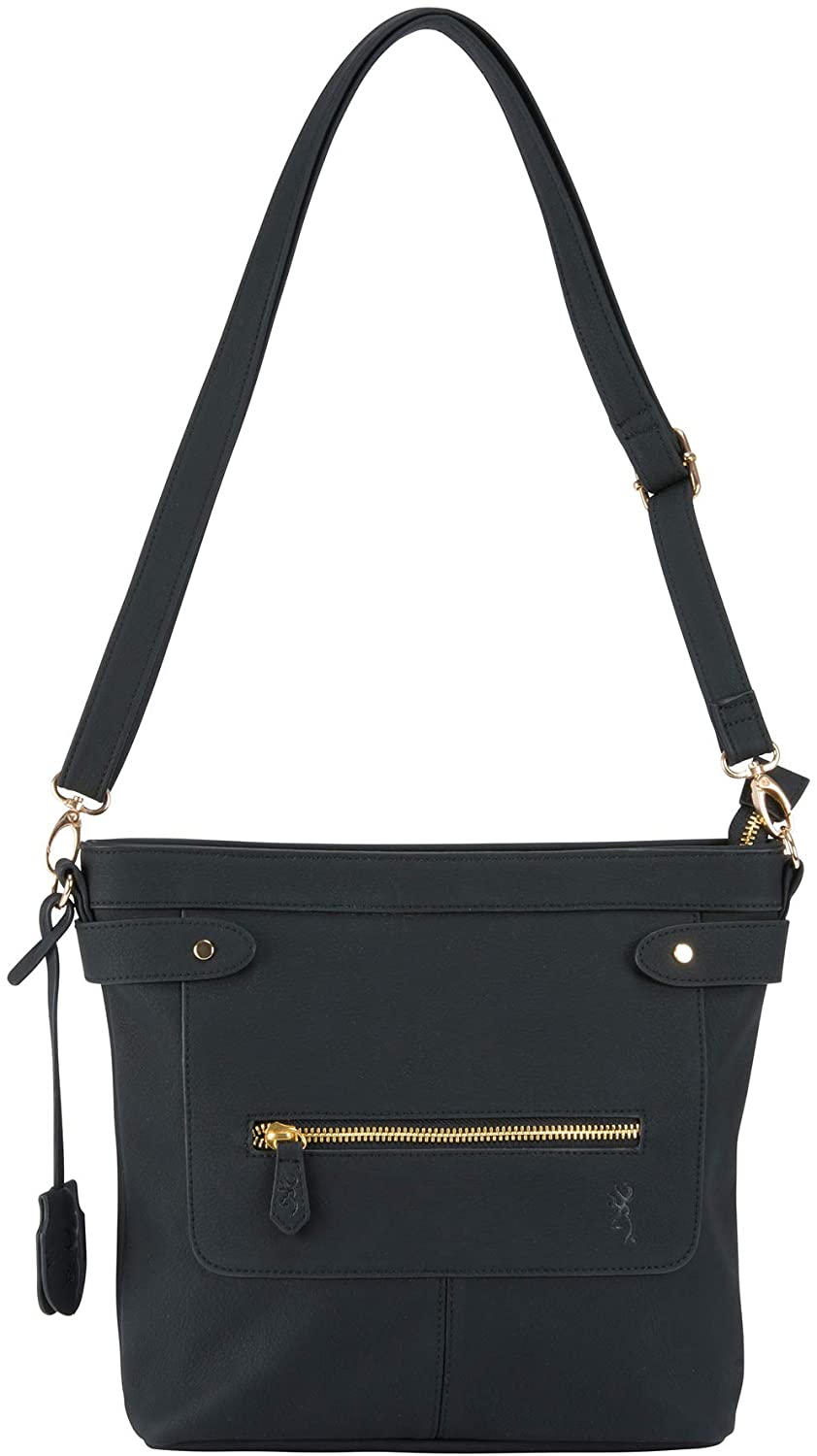 Price: $49.99
Rating: 4.7 out of 5
Description: This purse is made from extremely durable PU leather to create beautiful color and a smooth feeling to touch. It comes with a lockable zipper with a hidden key, quick access to the holster pocket, and an adjustable cross strap with two keys for locks.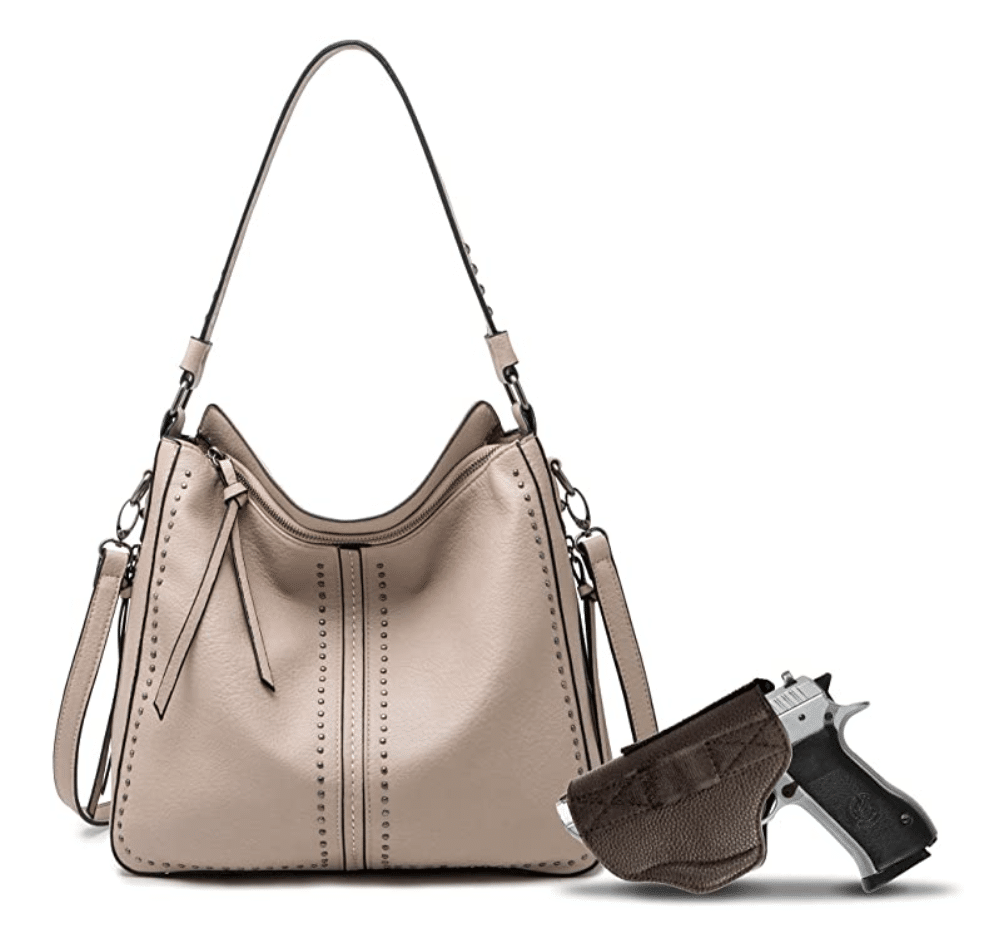 Price: $40.99
Rating: 4.5 out of 5
Description: This versatile bag is ideal for both left and right-handed people. It comes with Velcro secured detachable holster. The faux leather is high quality and practical. The hobo style creates a spacious bag, and it comes with a crossbody strap that can be removed. The two handles are comfortable, and the crossbody is adjustable to accommodate all sizes.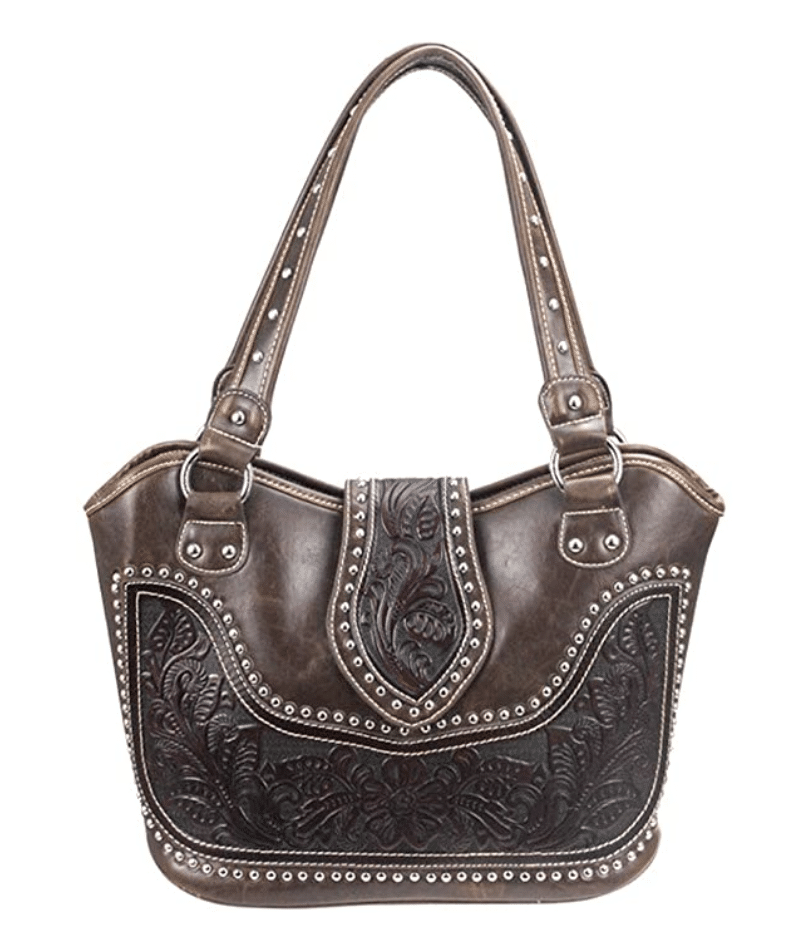 Price: $59.99
Rating: 4.6 out of 5
Description: This western-style concealed carry purse has a handgun pocket on the back. The genuine tooled leather is high-quality PU, and a center flap covers the front with magnet closure strips. The top also has a zipper closure, and the front is decorated with silver studs. There are three inner compartments and a zipper to close the middle one. Overall, there are a lot of compartments and easy access to the handgun portion.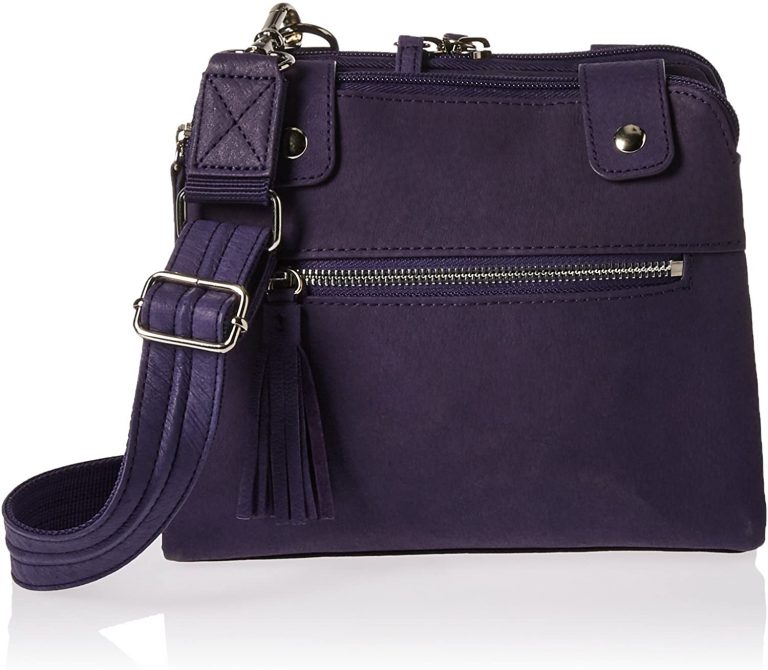 Price: $119.95
Rating: 4.2 out of 5
Description: This is a well-constructed purse with excellent craftsmanship and compact size. The deep purple color is stylish and versatile, and there is plenty of room for your gun as well as phone, money, credit cards, etc. Keep in mind; the holster did hold a Glock 43, as the trigger was left uncovered.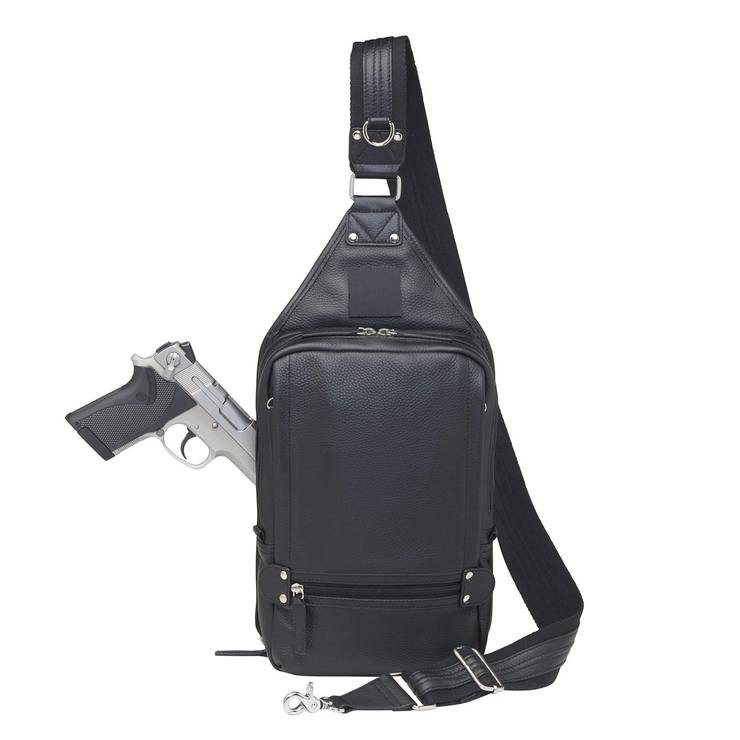 Price: $149.95
Rating: 4.2 out of 5
Description: The pebbled leather, slim shape, and chrome hardware set this purse apart from the competition. The handbag features a slash-resistant shoulder strap, three separate zippered pockets, and a bottom clip to adjust for left or right-handed preference. The interior is lined with khaki and offers RFID protection for your cards and personal items.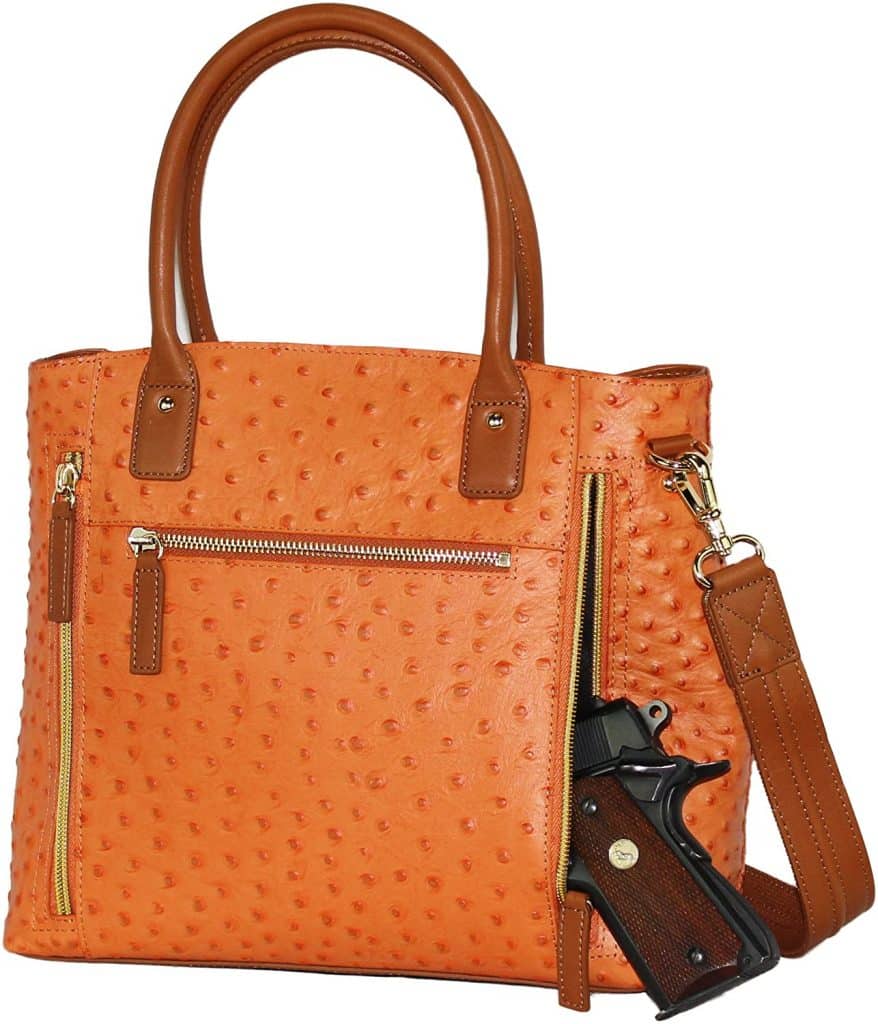 Price: $237.95
Rating: 4.5 out of 5
Description: An ostrich pattern cowhide with genuine American has the ostrich texture. As it ages, it goes to a darker patina and becomes softer. This is a very stylish purse with trimmed, accented full grain tan American cowhide. The interior has two open side pockets and a zippered privacy pocket. You have the option to use the short top or shoulder strap for crossbody carry.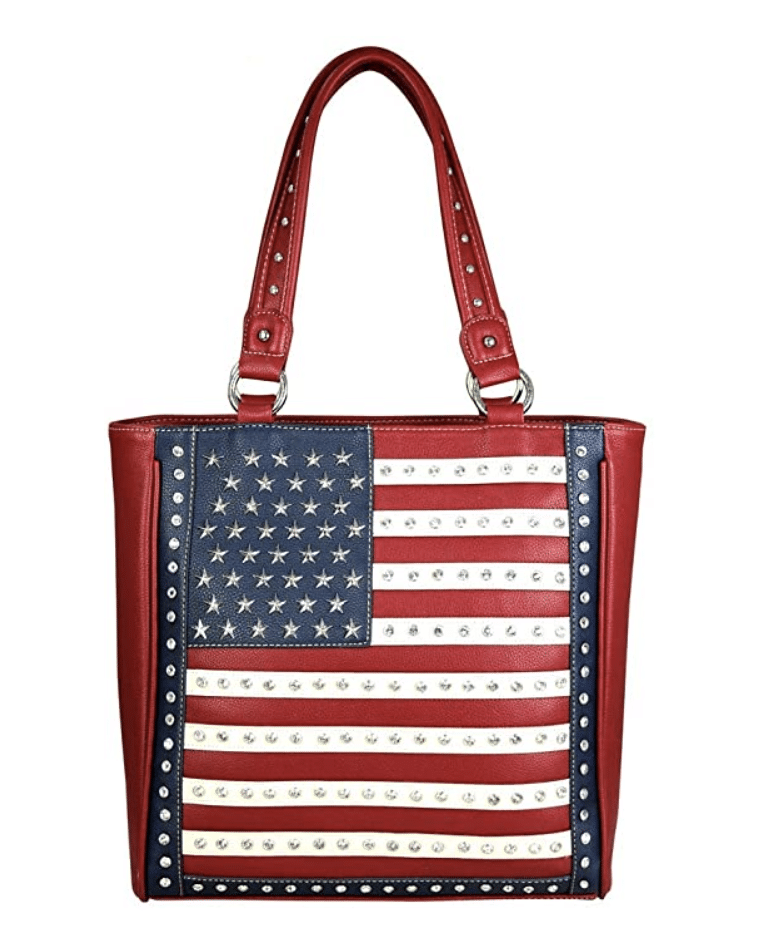 Price: $50.99
Rating: 4.6 out of 5
Description: This US-based vegan leather is one of the more patriotic options for concealed carry purses. It is decorated with silver stars and crystal studs with an American flag stars and stripes design on the front. There is a pocket on the back with a zipper to hold your handgun. The top main pockets are zipper closures with one compartment in the middle and two open pockets on one side.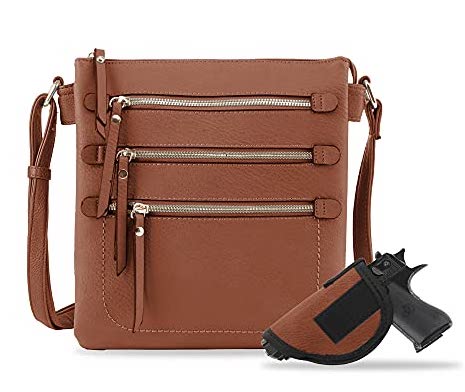 Price: $49.99
Rating: 4.6 out of 5
Description: This faux leather purse contains 100% vegan PU leather. This eco-friendly material makes this an affordable option with durable materials. The modern style is great for anyone on the go. The bag is medium in size but very functional, with easy access to your firearm. This is a thoughtful gift for your mom, sister, or friend.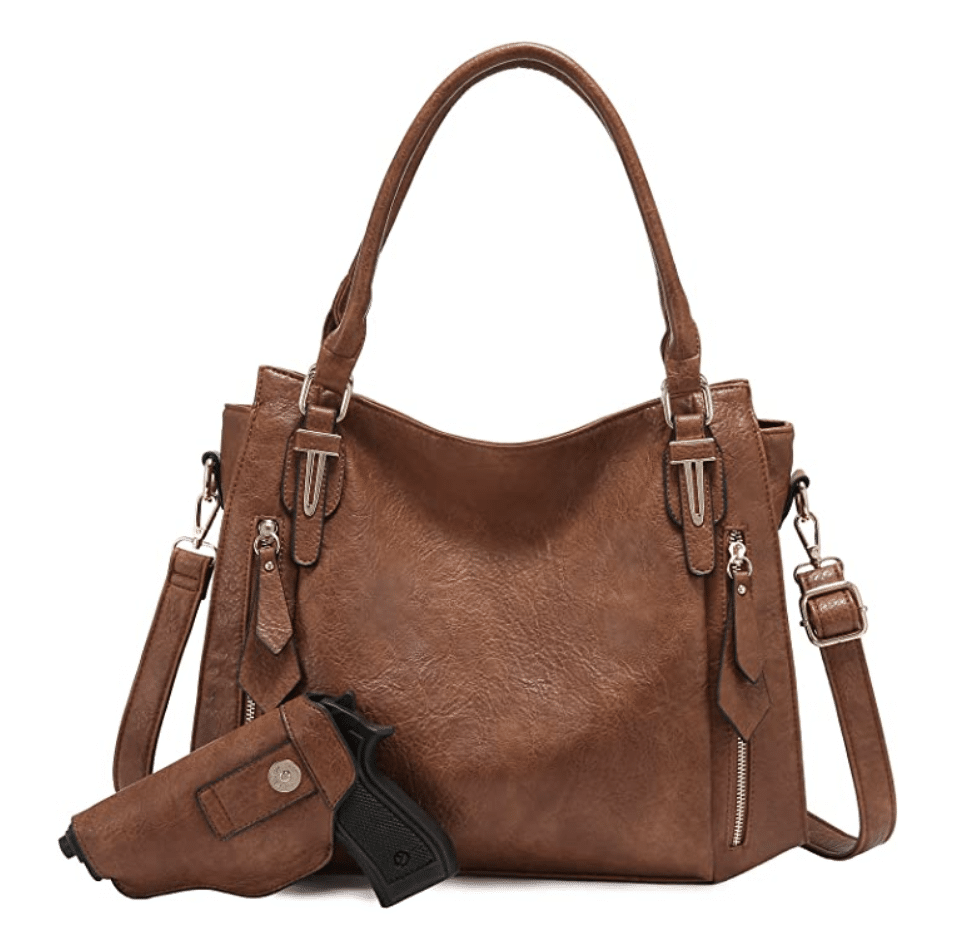 Price: $38.99
Rating: 4.5 out of 5
Description: This purse is also made from vegan faux leather. The gold-colored hardware provides an attractive accent color against your color choice. This hobo-style bag also comes with a crossbody strap and comes with a separate gun holster. The main compartment has an inner zip safety pocket and two compartments to hold your keys, phone, ids, or passport.
Conclusion
When it comes time to buy a concealed carry purse made in the USA, you consider everything, especially if it is a gift. You want to make sure the bag is suitable to carry a firearm and matches your style and needs. Look for something convenient, safe, and fashionable.
Source
Concealed Carry Purse Made in the USA is written by Will Ellis for gunnewsdaily.com