Cimarron 1878 Coach Gun Review
If you were driving a stagecoach across the dusty western U.S. territories in the late 1800s, chances are that you had a side-by-side, double-barreled shotgun close at hand. Those were rough times, with outlaws and stagecoach robbers around every bend. Having a powerful, reliable firearm was a necessity. In fact, the term "riding shotgun" is derived from the fact that the front passenger was responsible for wielding the shotgun while the driver drove the horses with the reins. Fast forward to today. The reasons to own one may have changed, but the quality and reliability of a double-barreled shotgun still remain. Cimarron has produced this updated version of the original 1878 Coach Gun. It's updated to accept smokeless ammunition, but other than that, the Cimarron 1878 Coach Gun is a near-identical replica of the original.
It's extremely popular with gun collectors and wild west enthusiasts. There may be other shotguns better suited for hunting or home defense, but the 1878 Coach Gun remains popular as a piece of American history.
Coach Gun Design
The 1878 Coach Gun is a side-by-side, double-barreled shotgun chambered for 12 gauge. It can accept 3 inch or 2 ¾ inch shells. It comes from Cimarron in two barrel lengths, 26" or 20". If you're used to a big, long shotgun for hunting or sport shooting, this will feel like a child's toy in your hands. Although despite the short length, it does have some weight to it.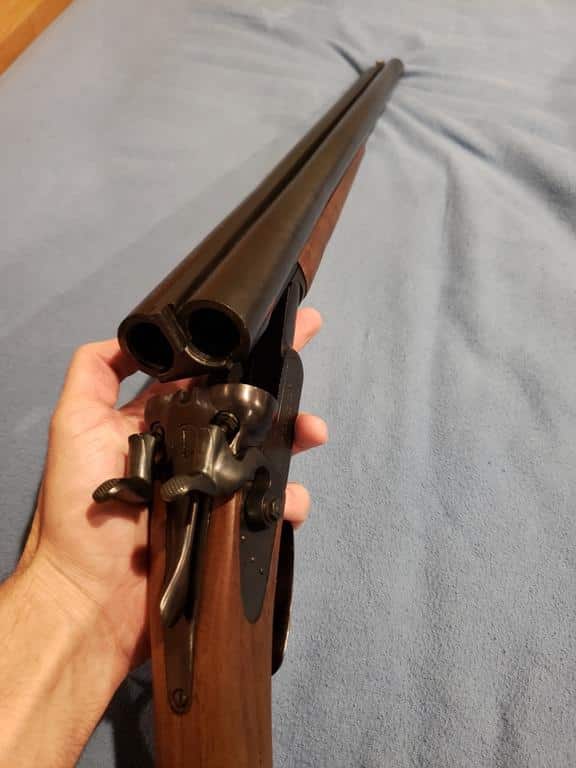 The gun equipped with a 20" barrel weighs in at a full 8 lbs, and the 26" barrel will add a few ounces to that. The weight does well to absorb some of the recoils that you would expect to feel from a smaller shotgun.
The most noticeable features of the double-barreled shotgun are the dual hammers and dual triggers. Each trigger fires one of the barrels. The front trigger fires the right barrel and the rear trigger fires the left barrel. The exposed dual hammers are large and easy to manipulate. A person with normal-sized hands should be able to cock both triggers simultaneously using their firing hand thumb with no problems.
Another useful design feature is the fact that the 1878 Coach Gun breaks down into three pieces, all 20 inches long or less. The takedown procedure is extremely simple. There is a hasp on the bottom of the handgrip that removes the grip from the barrels. From there, the barrels slide out of the receiver, and that's it. The three pieces are small enough to fit into almost any backpack, making the 1878 Coach Gun extremely portable.
Cimarron 1878 Coach Gun Specs
Action: Side by Side
Capacity: 2
Finish: Walnut / Standard Finish
Stock: Walnut
Sight: Bead
Barrel Length: 20" (or 26")
Overall Length: 37" (or 43")
Features: Double Triggers / Double External Hammers
Coach Gun Accuracy
Shotguns are meant to be point-and-shoot weapons. The 1878 Coach Gun is no different. With side-by-side barrels, each one is pointed slightly inward, with a point of impact that crosses roughly 20 feet in front of the firer. This is an indication that this shotgun was mainly used as a defensive weapon at close range. If you plan to shoot any further than that, expect significantly decreased accuracy.
Pros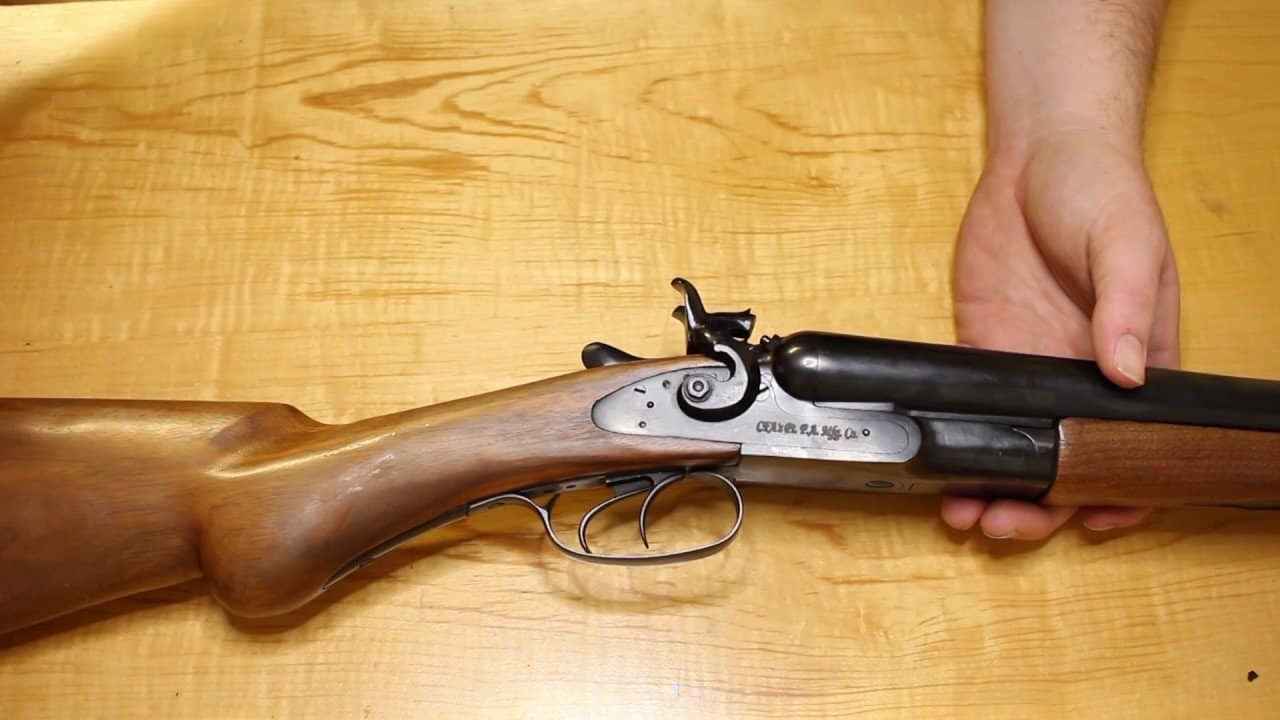 The biggest pro for the Coach Gun is that it's a collector's item. Anyone who has watched a Clint Eastwood western movie has seen this gun. It's a near-exact replica of the 1878 version, which will appeal to gun collectors as well as fans of western movies.
Although bird hunting and shotgun sport shooting is possible with this, there are other shotguns better suited for those activities. The Coach Gun could be used as a home defense weapon in a pinch, but there are also better guns out there for that.
The weight of the gun absorbs enough recoil that it's fairly easy to shoot, even for a beginner. That means that the Coach Gun would be a decent gun to introduce somebody to shooting for the first time. It's also very easy to aim, another plus for new shooters. As long as you keep your targets close, you will hit them just about every time.
The double-barrel breech-loading is another example of simplicity for beginners. There is a lever that opens the breach, and it opens to allow two shells to be loaded. Once they are loaded, simply close the breach and cock the hammers back, and you're good to go.
Cons
Once you get past about 20 feet, accuracy is greatly reduced. This is a con only for the fact that newer shotguns can remain accurate at slightly further distances, although not at rifle distances.
With a side-by-side, you only have two rounds before you need to reload again. Even in a best-case scenario, it will take 5-10 seconds to open the breech, remove the old shells, load new ones, close the breach, cock the hammers, and fire again.
Cimarron 1878 Coach Gun – Final Thoughts
If you're a gun enthusiast, you will definitely want to get your hands on a Cimarron 1878 Coach Gun. Shooting it will take you back to the wild west, and you can imagine yourself in a shootout with Billy The Kid or Wyatt Earp.
The Coach Gun isn't as practical as some more modern guns, but what it lacks in practicality it makes up for in utility and simplicity. Bottom Line: It's a great gun to have in the back of your gun safe.
Source
Cimarron 1878 Coach Gun Review is written by Will Ellis for gunnewsdaily.com