Best Concealed Carry Crossbody Purse
Carrying your concealed weapon safely within a purse designed for such an item is better than not carrying it at all. The following quote, in my opinion, perfectly summarizes the situation.
"A weapon in your hand is worth the whole police force on the phone."
Do you prefer style with security? Then, we are suggesting you go for the conceal carry Crossbody purse. These purses are handy when it comes to everyday carry.
Are you familiar with the best conceal carry crossbody purses? If not, then stay with us. Team Guns News Daily is here to recommend the 4 Conceal Carry Crossbody Purses with a buying guide.
What Is A Conceal Carry Crossbody Purses?
Conceal Carry Crossbody is a method of wearing a purse that has a sling that fits across your body, rather than just hanging on your shoulder. If you've worn a women's purse, you would probably agree this is the most comfortable way to wear a purse.
The long shoulder strap gives you freedom to move about without worrying about dropping your purse.
Wearing the purse diagonally with the help of the strap, allows your two hands to be free and unincumbered.
Are Concealed Carry Purses Worth It?
If you want a comfortable and functional carry purse, you should go for the concealed carry purse. Not to mention there are some really stylish versions of the concealed carry crossbody purse. Who doesn't like style with security? Especially when you are carrying a gun for your safety in a concealed carry bag, it gives you the right combination of fashion & protection.
What To Look For When Choosing A Conceal Carry Crossbody Purses
Many of these purses come in the latest styles. If you want to buy for your wife or any other family or friend, follow their current fashion sense and then select the style for the purse.
For carrying concealed pistols, a dedicated compartment is essential in a concealed carry crossbody purse. Keeping your fire arm in the main compartment of your purse can be problematic. The last thing you need is to be digging around in your purse for your gun.
Also, for any other accessories like extra magazines, the purse should have different sizes of dedicated compartments. The feature prevents losing the accessories in your bag.
You should select your preferred size and shape based on your weapon. Having your gun snag as you try and access can literally mean life or death.
Material is essential when you are buying a purse. Whether it is conceal carry purse or not. Handbags are made with leather, plastic, fabrics, etc.. Ensure that your purse's material is durable enough to handle the weight and size of your weapon. You don't want your gun wearing a hole in your bag.
A good quality fashionable purse can be a significant amount of money. Go for quality products! In this case, it is all about function over form. As the term Every Day Carry suggests, you will be using this purse frequently.
Our Top Picks
Reviews & Recommendation
Roma Leathers Concealed Carry Crossbody Purse is one of the best conceal purses. You can find all the best features in this amazing-looking handbag.
This is a colorful, gorgeous, and smart purse you can get at a reasonable price. If you are searching for a 100% leather-made bag, then it is the one. The zipper closure is of the highest quality.
2 lockable YKK zippers are perfect for concealing your gun.
Considering it has multiple compartments and pockets, the bag has a compact size. Just make sure it fits the weapon you are storing in it.
Pros
Good-looking rectangular shaped.
Attractive color.
Elegant outlook.
Simple and useful.
Made of 100% leather.
Cons
It can be small for the traveler.
Why Do We Recommend It?
We recommend the Roma Leathers Concealed Carry Crossbody Purse for its dynamic features and benefits. Especially the two locking zippers With a stylish look, the purse has a unique rectangular shape design made of 100% leather.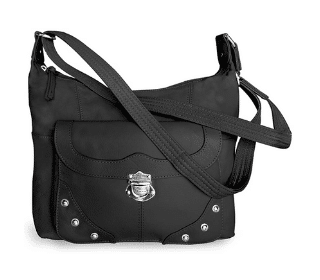 Here is our 2nd pick from Roma! This Leather Concealed Carry Crossbody purse is the right one for the stylish woman. The design of this purse is flawless.
On the top of the purse, the bag has two zippers. All the compartments of the purse are great for any size of accessories. For the gun compartment, the designer has used a YKK lockable zipper.
Pros
With YKK lockable zipper.
Stylish and elegant.
Large compartment.
Flexible shoulder strap.
Well-designed and various compartments.
Cons
Ordinary design(Recommended by few customers on Amazon)
Why Do We Recommend It?
We recommend the Roma Crossbody Purse for its stylish-looking rectangular shape. The lockable firearm compartment, as well as, the bag has some space for accessories.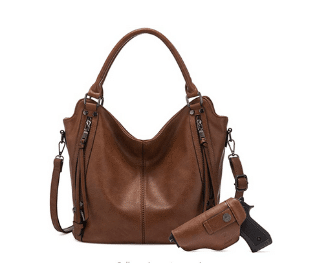 Do you love fashionable concealed purses? Then, the Realer Concealed Carry Women Hobo leather purse is one to consider. You can get these vegan leather purses with the classic Hobo handgun compartment.
These purses work for both (right and left) hands. The compartment is designed especially for accessing the gun quickly.
With enormous capacity to hold whatever you need. You can find 1 zipper compartment, 2 giant pockets, 2 compartments for the phones or keys. This bag is perfect for dating, job, traveling, or shopping.
Some of the best quality of material is featured in this purse, a leather with anti-scratch PU. The Realer Women Hobo leather purse is for women at any age.
The Realer Crossbody Purse is damage-resistant and passes anti-shock tests. An adjustable strap makes the purse fit for every body type.
Pros
Stylish Hobo-designed purse.
Large capacity.
Made by vegan leather.
Comes with a practical & elegant design.
Highly Portable
Cons
Why Do We Recommend Realer?
We recommend the Realer Concealed Carry Women Hobo Leather Purse for the ultimate safety and durability. Moreover, the capacity of the purse is enough for any usage.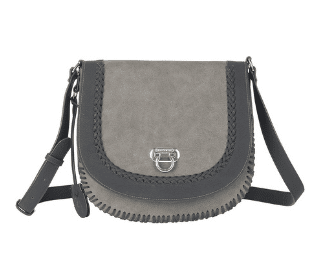 Are you searching the premium materials-made Crossbody concealed carry purse? Then, we suggest you consider the Browning Charcoal Women's Oakley. If you are looking for the best quality women's purses, this concealed purse is the one for you.
This particular Oakley-style purse has Crocodile looking exterior. With durable PU leather, the purse offers maximum durability. It gives the purse a smooth feel on the outside.
You can lock the purse's compartment with the lockable zipper. Their safety zipper feature is top-notch. Also, the purse has a quick access compartment when you want to have the quickest access. The size and weight are very reasonable and appropriate.
Pros
Made with premium material.
Comes with a lockable zipper.
Provides a hidden key ring.
Fast access compartment.
Very user-friendly and comfortable.
Cons
Why Do We Recommend It?
We recommend the Browning Charcoal Women's Oakley for the best quality material and safety features.
How Do You Use A Purse For Concealed Carry?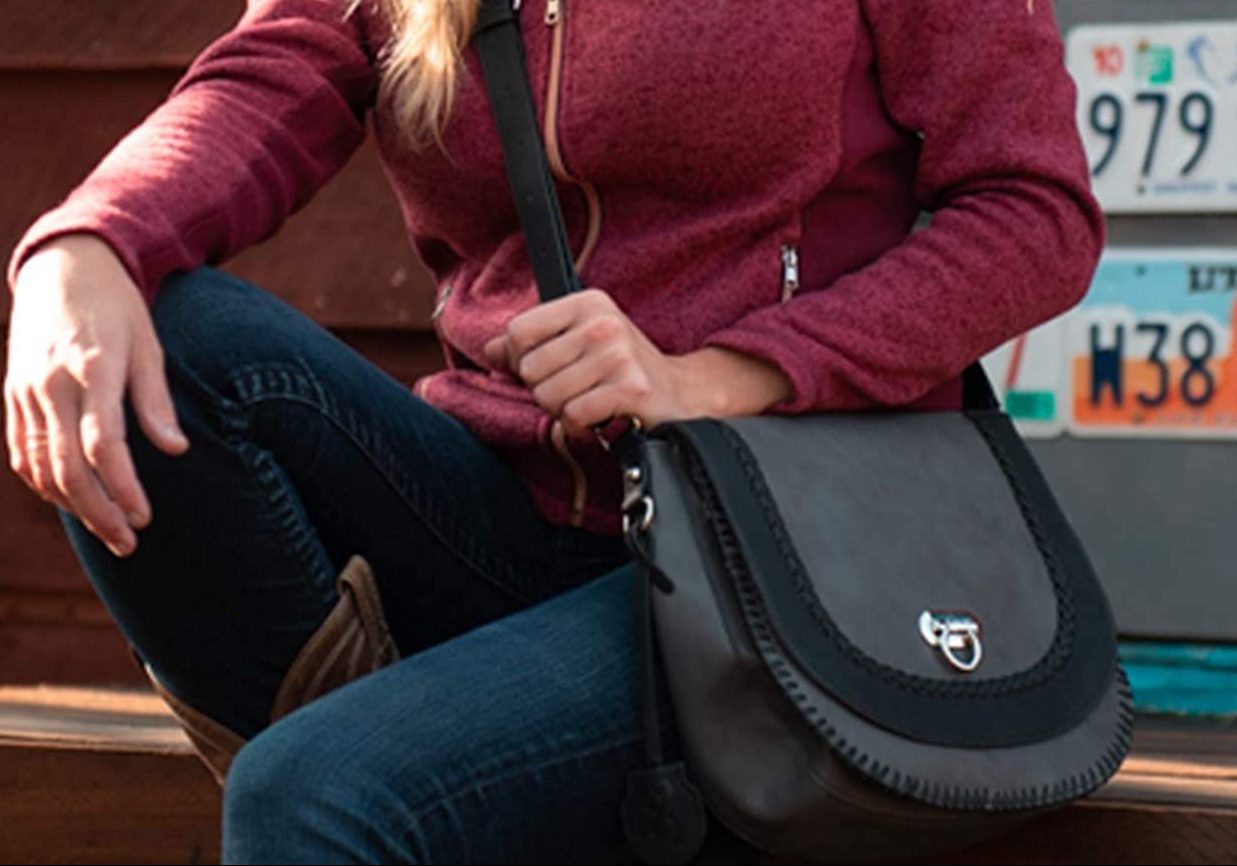 A regular purse is not right for concealed carry. The last thing you want is to have to search through your bag for your gun. You want to look for a dedicated locking compartment. Or one that has a fast access compartment.
Drawing a gun is not easy from a purse. The right purse will make this a simple efficient process.  That said, you should practice pulling the firearm from the purse.
You can carry the purse at the same shoulder as your shooting hand or reverse according to your purse size and practicing comfort.
In addition to being able to lock the gun storage department, it goes without saying you should leave your safety on while it is in your purse.
Make Your Purse Easier to Access 
The unique gun storage compartment is our recommendation for choosing a conceal carry Crossbody purse.  However, if you have to carry amongst your other items, do your best to keep it to only essentials.  A daily bag has a tendency to get cluttered with unnecessary items.
Bottom Line
You should have a good selection of the best conceal carry crossbody purses to choose from. However, if you still cannot choose the right one for you, our pick is the Roma Leathers Concealed Carry Crossbody Purse. It is the best fire arm holding purse based on functionality and durability.
FAQ
What is a concealed carry crossbody purse?
Answer:
A purse primarily designed for a concealed carry gun. The Crossbody feature allows you to be sure your purse stays securely fashioned to your body.  It also keeps your hands free to quickly access your weapon.
Can you wear a crossbody bag as a shoulder bag?
Answer:
Yes, you can wear a crossbody bag as a shoulder bag. You need to shorten the strap of your purse according to the shoulder height.  However, this reduces the effectiveness of keeping it secure to your body and hands free.
What is the best concealed carry purse?
Answer:
Roma Leathers is the best among all good quality concealed purses.
How low should a crossbody bag hang?
Answer:
50 inches range is the best strap length range for wearing a purse securely. This length allows for most types of body movement while wearing the purse. However, this depends on body type.
Source
Best Concealed Carry Crossbody Purse is written by Alex Joseph for gunnewsdaily.com